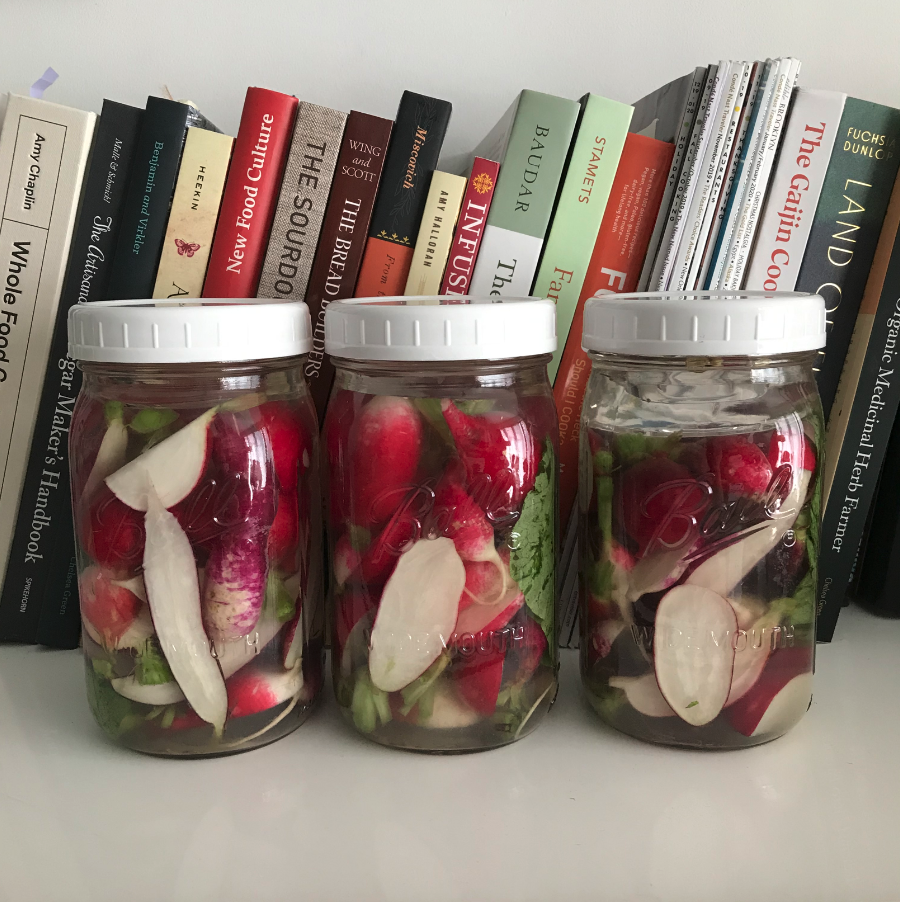 Lacto-fermented radishes
Our second experiment with ferments was following the recipe by Amy Chaplin on her book Whole Food Cooking Every Day: Transform the way you eat with 250 vegetarian recipes free of gluten, dairy, and refined sugar. This book has personally given me so many good recipes to try, that I totally recommend it, to any level cook. The recipes are very easy to follow and the photography by Anson Smart is outstanding.
In the morning I went to the Grand Army Plaza Greenmarket to get some vegetables and to understand what produce is on-season. At the Willow Wisp Organic Farm stand, I found beautiful and very fresh Alusia and cherry belle radishes, and we decided to give them a try with a Lacto-fermentation recipe. After looking at some books, we decided to go with Amy's recommendation and guidance.

You can use them chopped as topping over lentils or any beans.
Lacto-Fermented radishes
A recipe by Amy Chaplin
Makes about 3 cups | 13 1/2 ounces | 380 g
14 ounces (400 g radishes, washed and cut into 1/2-inch (1.25 cm) wedges (about 3 cups)
1 recipe sea salt brine (cooled)
Put the radishes in a clean 1-quart (940 ml) widemouthed glass jar and pour the cooled brine over them. Press the radishes down to release any air bubbles. Make sure there is a least 1 inch (2.5 cm) of headspace above the radishes. Place a glass weight or heavy glass lid on top of the radishes to hold them down. Secure the lid, label and date the jar, put it on a plate, and set aside in a cool and dark place (about 65ºF | 18ºC) for 1 week.
After 1 week, remove the lid and weight and remove a piece of radish to taste. When ready, the radishes should have a pleasant crisp texture and flavor are to your liking, transfer the jar to the fridge. If not, replace the weight and lid and set aside for a few more days before checking again. Once they are ready the radishes can be stored in the fridge for up to 3 months.
Sea salt brine
Makes 2 cups | 480 ml
4 teaspoons (1/2 ounce | 16 g) fine sea salt
2 cups (240 ml) filtered water
Put the salt in a heatproof jar or bowl. Bring the water to boil, pour into the jar, and stir to dissolve the salt. Let cool before using.