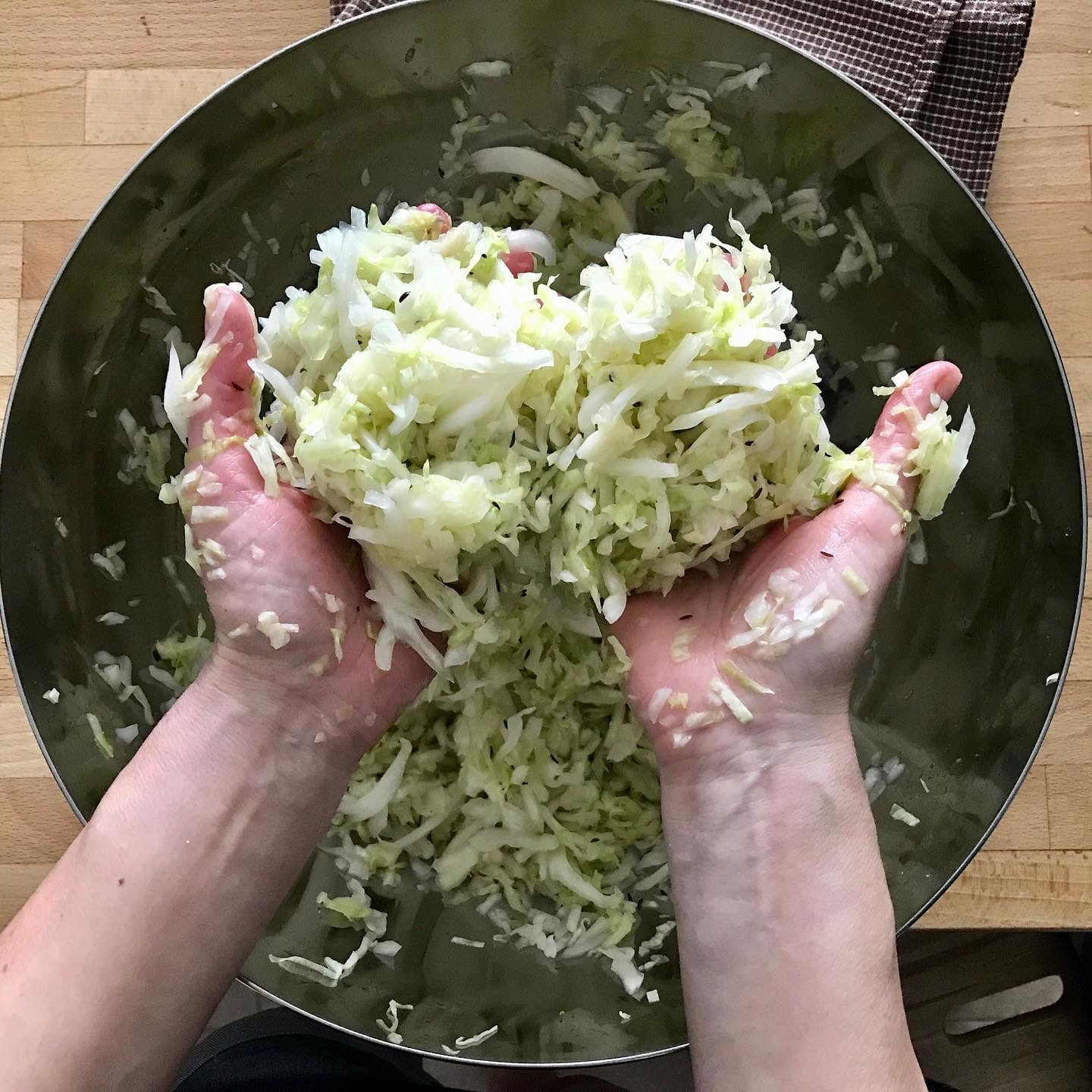 A new beginning with ferments
After a few years of no posting ideas and recipes, traveling more, cooking, and experiencing new and unique flavors, we feel that we are on a new learning path to understand ferments. If we come back on time, we already crossed paths with beer and bread making, with curiosity and mistakes, we build a natural knowledge to understand how simple and complex this journey can be. Preserving food, enhancing favors, improving their digestibility, and making these truly personal food products, is giving us a new perspective moving forward.
Living in an urban metropolis like New York offers great challenges and also access to unlimited potential and opportunities. This 2020 year, showed us the light of change, reflection, and gratitude. Nothing is taken for granted, working from home, trying to read more and get inspired by people that are making a difference in food, agriculture, and environmental issues, ignited my soul to begin writing, hopefully with smart thoughts and ideas that can inspire others to cook, understand the power of food as medicine and take a moment to be grateful for everyday blessings, especially when we share a meal.
Challenging times create opportunities and this new path is very exciting to us. Nothing is certain but deep inside we feel that coming back to our grandparent's way to do things makes more sense than ever. I remember that one of my grandfathers used to do fruit canning, olives, and pickles. My mom and dad on times of financial hardship made fresh and aged cheese. Back then I didn't pay attention or even appreciate it, but I do remember the sweetness of my grandfather canned peaches and the deep tangy flavor of those funky aged cheeses. Those food memories I want to cherish and try to reproduce one more time.
We will be sure to start writing down and sharing the sourdough bread recipes that we have been trying during the last two years, but let's start with a little introduction to our first basic kraut and the books that are guiding us on this funky and delightful journey.
A simple recipe for kraut can be easily found online, we like that, but we also like to compare different authors, perspectives, and their own journey to this fascinating and kind of magical world.
The pioneer and for sure the most known food writer that specializes in all things fermentation is Sandor Ellix Katz and his first book Wild fermentation: The flavor, nutrition, and craft of Live-culture foods. This book is a great introduction to the concept of fermentation, its health benefits and of course the delicious flavors that you can co-create with these incredible microbes that are part and live around us.
Sandorkraut, as he called himself on social media, has another interesting book, definitely a more in-depth exploration of essential concepts and fermentation processes around the world. The book is called The Art of Fermentation, and I would consider this one as the most comprehensive information on fermenting vegetables, fruits, grains, milk, beans, and meats.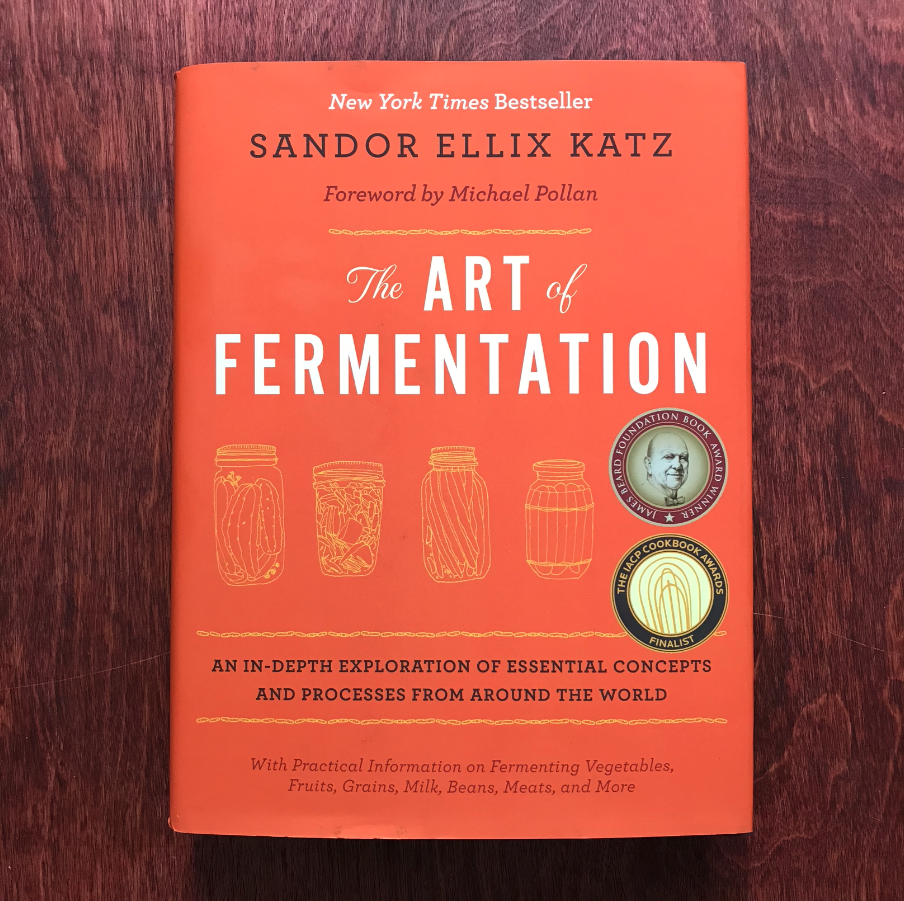 The book that motivated me to begin fermenting and not just to read about it was The Farmhouse Culture Guide to Fermenting by Kathryn Lukas & Shane Peterson. On a beautifully photographed book, the mother and son authors take you on a soulful journey to craft live-cultured foods and drinks with 100 recipes from kimchi to kombucha.
The first recipe that we tried is the master formula for basic kraut. Today we had the first taste with a pork chop dish and it was truly delicious. I just loved the caraway seeds flavor.
BASIC KRAUT
A recipe by Kathryn Lukas & Shane Peterson
MAKES 1/2 GALLON
1.960 grams shredded green, white, or red cabbage (1/8 to 1/4 inch-thick shreds)
40 grams of coarse unrefined sea salt
1 tablespoon caraway seeds or juniper berries (optional)

EQUIPMENT
Kitchen scale
1/2 gallon or 2-liter wide-mouth glass jar
Canning funnel (optional)
Kraut tamper (optional)
Fermentation lid

FERMENTATION
TEMPERATURE & TIME
Above 68ºF
Ferment 2 weeks or less
————————————-
Above 65º to 68ºF
Ferment 2 to 3 weeks
————————————-
Above 64ºF
Ferment 3 weeks
————————————-
60º to 63º F
Ferment 3 to 4 weeks
————————————-
Below 60º F
Ferment 4 weeks or more
Caraway and juniper berries are both classic additions to traditional Bavarian-style kraut. Caraway seeds have a carminative (gas-preventing) properties. With that, we typically make our basic kraut 'naked" because we used it so often to culture other foods and prefer to have a more blank flavor slate.
Wash and sanitize all your fermentation equipment, including a large bowl, knife, and cutting board, and set aside to air-dry.
Put the shredded cabbage in the large bowl and sprinkle the salt over the shredded cabbage, along with the caraway seeds or juniper berries, Using your hands, vigorously massage, squeeze, and mix the salt into the cabbage until the cabbage begins to release liquid, about 5 minutes. The cabbage will transform in color and texture, becoming more translucent and pliable as you go. When you can grab a handful of the shredded cabbage and squeeze the liquid out of it easily. It's ready to go.
Transfer the cabbage to the jar along with the natural brine at the bottom of the bowl (a canning funnels is useful here and helps to minimize spillage). As you add the cabbage, tamp it down with your fist or a kraut tamper to submerge the solids under the brine and force out any air pockets. Continue until the jar is full, leaving 2 inches of headspace.
Take one of the whole cabbage leaves, give it a quick rinse, and fold it up so it fits into the mouth of the jar. It should cover all the cabbage below and very slightly protrude from the top of the jar. Depending on the size and density of the leaves, you may need to fold and add a second cabbage leaf if the kraut is not submerged under the brine when the lid is sealed.
Seal the jar with the fermentation lid. You should feel some resistance from the cabbage leaf, but not so much that tightening the lids overly difficult. Place the sealed jar on a plate or in a bowl to catch any liquid displaced through the airlock during fermentation.
Ferment the kraut in a cool place away from direct sunlight (3 weeks at 64ºF is ideal – See top chart for other temperatures and times).
Taste the kraut after 2 weeks to determine if the flavor and sourness are to your liking. If it's not sour enough, reseal the jar and let it ferment for another week, then taste again. When the kraut is sour to your liking replace the fermentation lid with a regular lid, seal, and store in the refrigerator for up op 10 months.