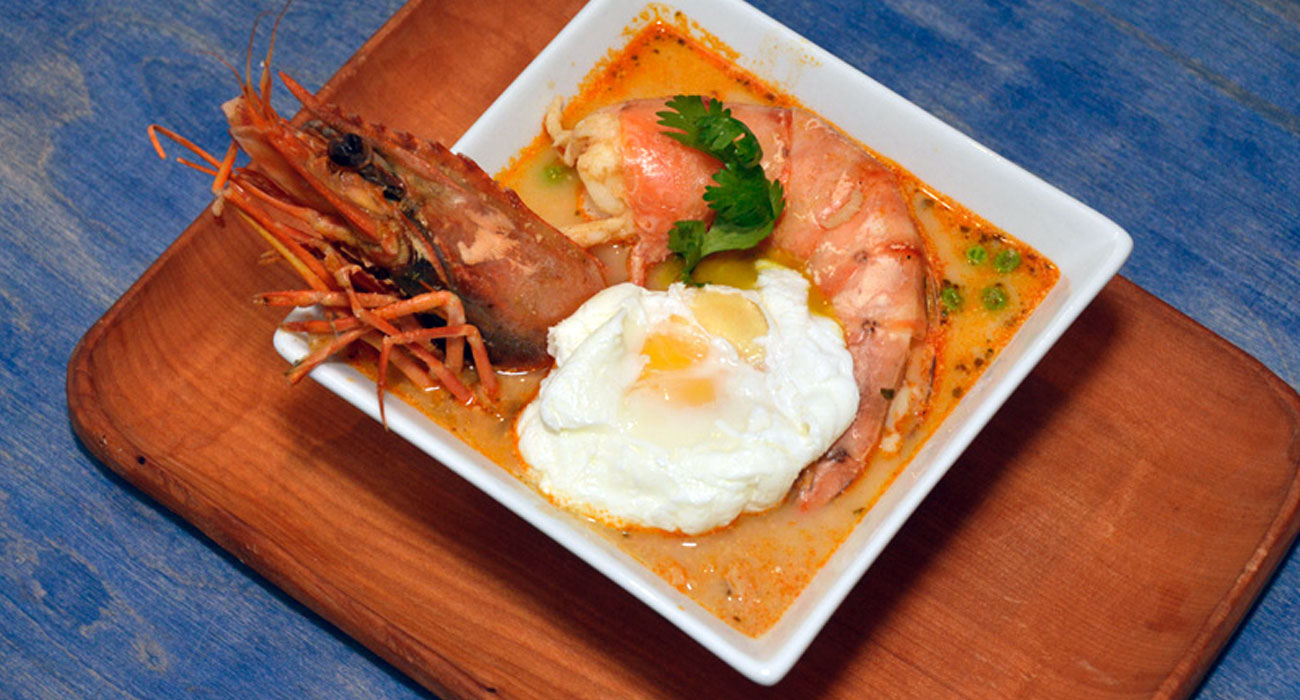 Chupe de camarones: A recipe by Martin Morales
Prawn Chowder (Serves 4)
This is a particularly good soup for a cold winter's night. It has all the warmth and comforting properties of a classic chowder, but with a kick of Peruvian heat to wake up your taste buds.
From the original recipe, we used red snapper and tiger shrimps. Great twist! Delicious results.
INGREDIENTS
600 grams of raw (Head-on) prawns
1 liter shellfish stock made using the heads and shells from the prawns.
3 tbsp olive oil
1 large red onion, diced
5 garlic cloves, crushed
2 tbsp Amarillo chilli paste or 2 tbsp tomato purée and 1 finely chopped red chilli
2 tomatoes, peeled, deseeded and finely chopped
1 tbsp finely chopped fresh oregano or 1 tsp dried oregano, plus extra to garnish
50 gr long-grain rice
1 large starchy potato (such as Idaho potato), peeled and cut into 2 cm cubes
1 choclo (corn) cob, kernels cut from the cob
100 ml single cream or evaporated milk
100 gr peas
4 eggs
50 gr Fresh Cheese or feta diced
4 large cooked shell-on prawn, to serve
Salt and freshly ground black pepper
DIRECTIONS
Prepare the prawns. Remove the heads and shells from the prawns and use them to make 1 litre Shellfish Stock. Devein the prawns and chill until needed.
Heat the oil in a large, heavy-based saucepan. Add the onion and sauté over low heat for 5 minutes until softened. Add the garlic and sauté for a further minute. Next, add the Amarillo Chilli Paste and sauté until oil and paste start to separate.
Add the tomatoes, oregano, freshly made stock and the rice. Bring to boil and simmer for about 5 minutes. Add the potato cubes and choclo and simmer for 20 minutes. The starch released from the rice and potato should start to thicken the soup.
Check the soup to test that the rice, the potato, and choclo are cooked. Add the prawns, cream, and peas and keep simmering for 5 minutes.
Meanwhile, poach 4 eggs in a saucepan of boiling water or in an egg poacher.
Season with salt and pepper to taste and add the cheese. Pour into serving bowls and top each bowl with a freshly poached egg, a cooked shell-on prawn and a sprinkling of fresh oregano and serve immediately.
Note
Evaporated milk is often used instead of single cream as it adds a sweeter flavor.
Fish stock
This recipe provides an excellent base for any fish soup, stew or sauce.
Put 200 gr of washed fish trimmings, 1 diced leek, 1 diced white onion, 1 diced celery stick, 1/2 a diced fennel bulb, 50 mil white wine, 1 garlic clove, 1 teaspoon black peppercorns, 1 thyme spring, 2 bay leaves and 1 litre cold water in a large sauce or stockpot and cover. Simmer over medium heat for 5 minutes and then reduce the heat to very low and continue to simmer for 30 minutes. Strain and reserve the liquid. Makes about a liter.
You can get Ceviche, Peruvian Kitchen book at Amazon