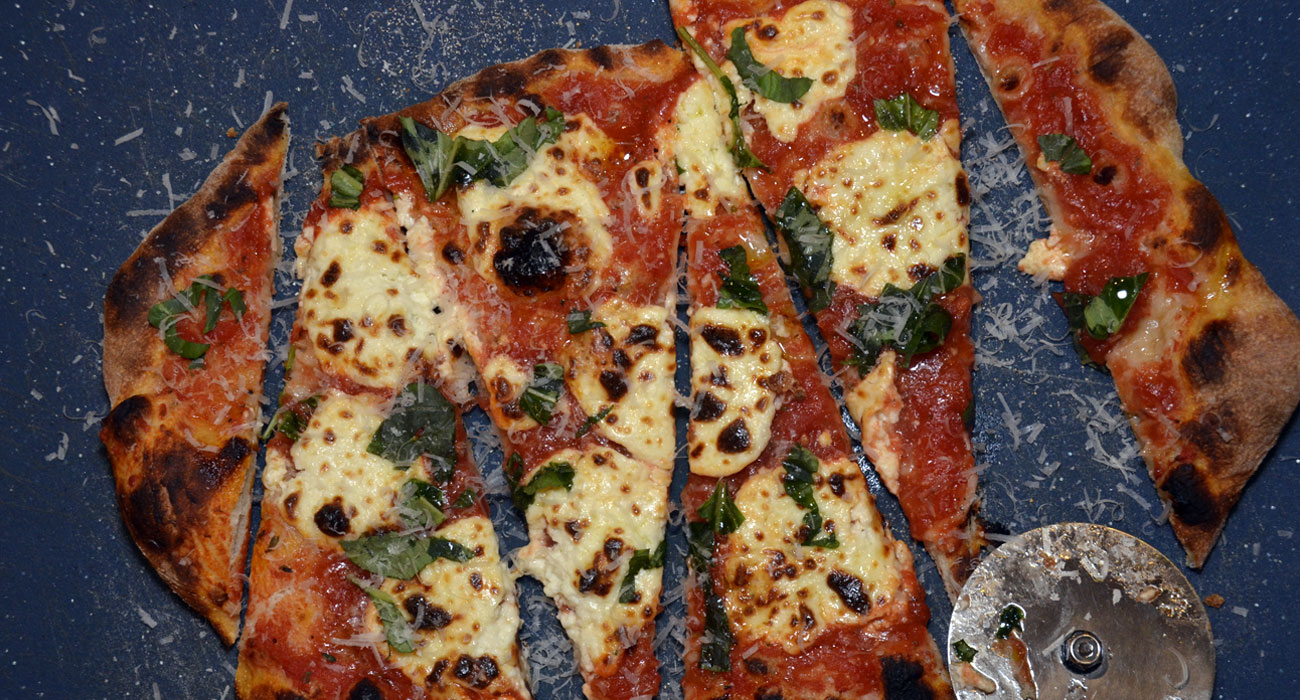 Naples-Style pizza dough: Recipe by Saveur Magazine
PIZZA DOUGH INGREDIENTS
Makes four 12-oz. balls
The secret to making this pizza dough is to let it slowly rise in the refrigerator for 48 hours–that's what gives it its deep flavor and tender structure.
2 tbsp. sugar
1 tbsp. olive oil plus more
1/2 tsp. active dry yeast
5 1/2 cups all purpose flour
2 tbsp. kosher salt
DIRECTIONS
1. Combine sugar, oil, yeast, and 2 cups cold water in bowl of a stand mixer fitted with a dough hook; let stir until foamy, 8–10 minutes. Mix flour and salt in a bowl. With motor running, slowly add flour mixture; mix until a smooth dough forms, 8–10 minutes. Transfer dough so greased baking sheet; cover with plastic wrap. Let sit at room temperature 1 hour.
2. Divide dough into 4 balls, transfer to a greased 9? x 13? dish; brush tops with oil. Cover with plastic wrap; refrigerate 48 hours.
Salsa di Pomodoro Fresco (Naples-Style Pizza Sauce)
Makes about 4 cups
2 28-oz cans whole peeled tomatoes (packed in purée)
2 tbsp. kosher salt
1. Remove each tomato from the can and reserve 3 cups of the purée. Cut the tomatoes in half and, using your fingers, remove and discard the seeds (don't rinse)
2. Place the tomatoes in a food processor and pulse until just crushed but not purée. (Alternatively, crush the tomatoes by hand or pass then through a food mill.)
3. Transfer the tomato sauce to a bowl and stir in the reserved 3 cups of purée and salt.
PIZZA MARGHERITA
(Tomato, Basil and Mozzarella Pizza)
Makes four 10? pizzas
This most iconic of pizzas is topped with tomato sauce, fresh mozzarella, and basil leaves, the colors of the Italian flag.
1 recipe Naples-style pizza dough
Fine semolina, for dusting
1 recipe Naples-style pizza sauce
1 lb. fresh mozzarella, thinly sliced (We did the recipe by the Cheese Queen)
16 fresh basil leaves
Olive oil, to taste
Place a pizza stone under the broiler; heat for 30 minutes. Working in 4 batches, dust 1 ball dough with semolina. Using your fingertips, press dough into a 10 in circle about 1/4 in thick, leaving a 1in crust around the edges. Hold dough straight up, and with fingertips around crust in a circular motion as you would turn a steering wheel until dough in the center is stretched to about 1/8 in thick; transfer to a semolina dusted pizza peel. Spread 1/2 cup sauce over dough, and distribute a quarter each of the cheese ad the basil leaves; drizzle with oil. Slide pizza onto stone; broil until cheese melts and crust is puffed and charred in spots, 3–4 minutes. Serve hot.